Propelling the Future of Logistics with IoT
By Jeff Steilen, VP, Information Technology, UPS Asia Pacific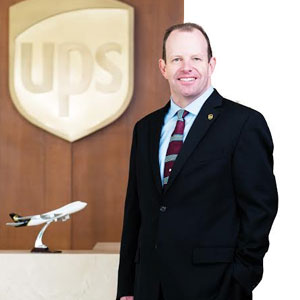 Jeff Steilen, VP, Information Technology, UPS Asia Pacific
How is IoT revolutionizing logistics, and what can businesses learn from the logistics sector's IoT playbook?
Picture this: In a warehouse, drones are zipping overhead to check high storage racks to confirm stock and inventory. Next to it, in a sorting facility, thousands of packages are scanned, sorted and run through a conveyor belt to be loaded onto delivery trucks. In less than an hour, the vehicles file out to each make an average of 120 stops a day. A system processes the data of each package within the truck and gives the driver the fastest and most cost-efficient route to take.
At a delivery stop a hand-held device tells the driver exactly where a specific package is located within the truck, so he knows where to grab it. The recipient of the package is already expecting the package because she had been watching the truck get closer to her in real-time via her smartphone, and knows exactly when it will arrive.
This is not the logistics of the future… it is now.
According to a study by McKinsey Global Institute, the economic impact of IoT applications worldwide is expected to reach $11.1 trillion by 2025. Greater connectivity to the internet and adoption of smart devices has created a marketplace for Internet of Things (IoT) technology and products. Now, more than ever, consumers are seeking smart homes and cars that can gather and analyze data about them and make their lives more efficient. Businesses too, are realizing that IoT has huge potential to improve work efficiency, enhance connectivity, reduce human error and promote safety.
In the business world, it's all about connecting things, collecting data and deriving insights. Today, IoT is being adopted across a wide variety of industries, including automotive, healthcare, retail, manufacturing and logistics. The logistics sector is no exception.
Leading the way in IoT
In fact, the logistics industry is leading the way in IoT because providers rely heavily on up-to-date information about their networks to make decisions. For example, UPS has developed the On-Route Integrated Optimization and Navigation (ORION) system, which is currently running in its delivery vehicles in the U.S.
Over 200 sensors can monitor things like whether the driver is wearing a seatbelt, how fast the vehicle is moving and how much time it has spent idling.
The logistics industry is leading the way in IoT because providers rely heavily on up-to-date information about their networks to make decisions
ORION matches map data with the delivery requirements of every end user and suggests the shortest, most fuel-efficient route out of 200,000 options within three seconds, ensuring that every package is delivered in the shortest time possible.
Such applications of IoT has resulted in not just tremendous operational efficiency, but also lessened environmental impact. Since 2013, ORION has helped UPS to cut the distance driven by our drivers by more than 210 million miles and reduced 210,000 metric tonnes of carbon dioxide emissions. Obviously, IoT has made a huge impact in logistics. But it doesn't just stop here.
Where will the future take us?
Imagine a day when we dispatch a fleet of autonomous package cars each morning that are guided by fleet telematics and advanced algorithms. The onboard technology anticipates bad weather and accidents – and adjusts to accommodate new pickup requests.
Or a day when these vehicles have a delivery person on board who not only delivers packages to the customer's door, but also deploys a future generation of delivery drones to share the job. With the push of a button, a drone affixed on top of a delivery truck flies off to complete a delivery, while the driver continues to make a separate delivery to another location. Once the package has been dropped off, the drone returns to the delivery truck at its new location. This means drivers can now avoid roads that are not wide enough to accommodate a truck, or shave miles off their route in rural areas where homes are far and few between.
Evidently, there are a number of ways drones can augment the way logistics operates. In rural areas, for example, delivery drivers often travel long distances between stops. Consider the mileage savings when a drone is sent to deliver to a remote location rather than a vehicle. In fact, this is not fiction; it happens every day in Rwanda, where UPS delivers vaccines and critical medications to remote and hard-to-reach areas using drone technology.
IoT technologies like the ones I've described here make our network smarter, more prescriptive and predictive. It helps the logistics network to connect the dots and spot broader problems and opportunities even before we can and generate creative solutions the moment data becomes available. In the coming years, all that will be the norm.
Take a leaf out of the logistics player's book
Leaders are understandably wary of IoT when there are still so many unanswered questions. What standards will emerge? What is a realistic return on investment? And perhaps the biggest question of all, where to start?
But smart companies know that to stay on top, they'll have to be open-minded. Companies owe it to their customers and themselves to get ahead of emerging technology and explore how it can improve their business.
The hardest step in enterprise initiatives like IoT is often the first one. A great way to start is to get an extended team around the table and start talking – include your R&D, marketing, IT, sales, human resources and customer service experts. The next steps will flow from there.
It's incredible what can happen when you apply IoT to drive your business forward.