Key to Successful e-Commerce Logistics: Innovation
By Ramesh Narayanaswamy, CIO, SingPost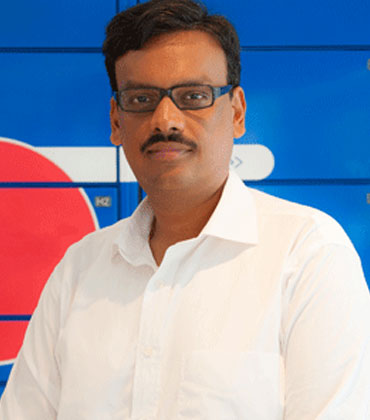 Ramesh Narayanaswamy, CIO, SingPost
As consumers' buying patterns across the globe are changing significantly, the e-Commerce logistics industry is in the center stage of action. Any e-Commerce logistics challenge is considerably complex to solve as e-Commerce and logistics are two industries which are at the opposite ends of the spectrum. Now, these two very different industries are converging to create unique solutions to enhance customers' experiences and provide significant operational cost savings.
Convergence of two very Different Industries
e-Commerce companies have always been at the forefront of innovation. Fast-paced, in touch with consumer needs, quick adoption of technology and a very young and dynamic workforce are the typical characteristics of an e-Commerce company.
"The improvement in Internet of-Things technology will make tracking of goods and people easier and more accurate"
Meanwhile, logistics companies are traditionally characterized by legacy infrastructure, heavy processes, a focus on operations rather than consumers, high entry barriers and aging workforce.
To enhance the "complete commerce" experience, there have been attempts to create e-Commerce logistics companies. These days, there are a number of start-ups which are spending time and money to solve this conundrum
There are also companies which have succeeded in creating an end-to-end e-Commerce logistics ecosystem by synchronizing the physical and digital flows of e-Commerce orders and parcels. These companies offer end-to-end e-Commerce logistics solutions spanning from webstore operations to online marketing, global fulfillment to omni-channel order management, and cross-border commerce to performance marketing to customer care services.
With many nations focusing on smart cities, urban logistics and the evolution of the social, mobile, analytics and cloud stack, the game is going to be changed for e-Commerce logistics. Security challenges both digital and physical spaces, and the Internet of Things sensor technologies are also playing a part to make the industry very innovative.
Proliferation of Mobile Technology
Not only are there fancy yet simple websites which can be created in minutes on mobile platform to enhance consumers' experiences of buying, mobile technology is also helping to solve many legacy problems in logistics.
An example is developing mobile applications which have made life easy for last mile agents and customers, using real time navigation. Taking photos as proof of delivery, collecting e-signatures and the ability to make payments via the mobile device have replaced the traditional bulky handheld devices that last mile agents used to carry around. These mobile applications that run on mobile devices can satisfy both the basic requirements of the traditional parcel logistics as well as the next generation e-Commerce logistics. They also enable huge scalability at an incrementally low cost.
Additionally, mobile applications on mobile devices have also created the ability to ramp up and down workforce in managing peak period. The last mile agents have become moreeffective than before. By using the mobile phone for scanning, warehouses and retail are able to innovate with their services.
Innovation is at the Heart of e-Commerce Logistics
The confluence of e-Commerce and logistics is also resulting in a new type of job creation. The multi-disciplinary approach to solving problems has created professionals who think out of the box and are interested in solving age old problems. Now, working or resolving challenges for the e-Commerce logistics industry is considered cutting edge. It is very important that this skill is harnessed and propagated to other traditional industries. For the transformation to be successful, it is important that the mind-set is changed and individuals believe in the creation of new business models.
The improvement in Internet of Things technology will make tracking of goods and people easier and more accurate. We can expect to see more innovation in this space which will make e-Commerce logistics efficient and interesting.
The role of regulators and governments cannot be underestimated in this regard. Road transport authorities, civil aviation authorities and cross-border custom clearance need to come together to make the end-to-end experience seamless and predictable. Payment methods also have a lot of scope for innovation. Alternate currencies, availability of instant credit online, alternatives to the credit card businesses are some areas in which innovative solutions will appear to make commerce prevalent everywhere.
We are in the midst of exciting times for e-Commerce logistics. To be at the forefront of end-to-end solutions and capabilities for the e-Commerce logistics ecosystem, we need to position ourselves well to innovate and provide solutions which will benefit everyone.
SingPost [SGX: S08], based in Singapore, provides innovative mail and logistics solutions. It was founded in 1819.