Why Logistics' Internet of Things needs a "Safety-First" approach?
By Steve Walker, CIO, Asia Pacific and Global Warehouse Management System Centre of Excellence, DHL Supply Chain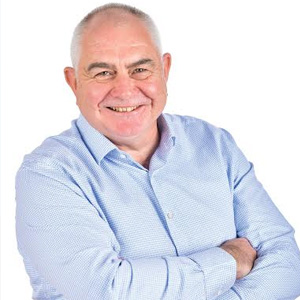 Steve Walker, CIO, Asia Pacific and Global Warehouse Management System Centre of Excellence, DHL Supply Chain
The Internet of Things (IoT) can make the supply chain a safer place. At DHL, we live a "safety-first" culture in everything we do and so it made sense to focus on safety in our first IoT proof-of-concept. Moreover, we discovered that doing so also provided the foundation for productivity and efficiency benefits so often associated with IoT.
The Vision
The IoT will radically transform the logistics industry – that much, most 3PL operators already know. In the Asia Pacific region, the industrial IoT market is expected to grow nearly 40 percent on average per year until 2020, with a quarter of that investment coming from logistics alone. Yet less than 2 percent of all large companies worldwide – a category many 3PL operators fall into–have a clear vision for IoT adoption in their business.
DHL's IoT journey began last year, during which we considered the areas where IOT adoption could have the most tangible impact on improving our operations. We created a vision that started with safety; which extended to productivity improvements and concluded with leveraging IoT-generated "Big Data" to provide more fundamental efficiency gains.
The Journey
We began with a straightforward use case: equipping both our forklifts and pedestrian picking staff with sensors that would detect when the two came in close proximity. As soon as a truck came within two meters of a picker, the driver's sensor would send an alert by both sounding and vibrating, allowing for an immediate reaction. Focusing on the warehouse –DHL's Advanced Regional Centre (ARC)– in Singapore in this case, it gave us a controlled environment with far less variables than road or other outdoor environments to test the technology.
As IoT's starting point, safety, makes sense for one major reason: sensors can maintain a level of vigilance and consistency that human operators can't. IoT sensors and alerts can compensate for workers' inevitable lapses in concentration, directly addressing some of the most common causes of safety incidents in the warehouse or plant floor. Moreover, IoT solutions don't require workers to make major changes to their behavior. Our ARC solution, for example, simply involves our operators pinning a tag to their uniforms when they begin work.
The operators in the study also wore heart rate monitors, allowing us to see a strong co-relation between the number of close proximity alerts and when operators were feeling tired (at which point their heart rate would be reduced). The system alerted managers when a driver's heart rate fell during periods of fatigue, so that the operator could be given a break. Perhaps unsurprisingly, we have detected that the periods of fatigue typically fall just after lunch!
Apart from using this information to educate our staff, we are also exploring how to monitor the heart rates of not just forklift drivers but also truck drivers, allowing our control towers to alert them if they detect signs of tiredness. Just like with our proximity sensors, heartrate monitors have lent themselves to multiple applications across the entire supply chain.
Sensors can maintain a level of vigilance and consistency that human operators can't
By tracking the volume and location of close-proximity alerts logged by our sensors, we were able to build up "heat-maps" of where the most incidents occurred, allowing us to not only reduce the likelihood of collisions, but also design our spaces for faster and more efficient goods handling.
The Virtuous Cycle
Initial pilot programs suggest that DHL can yield significant productivity gains from these insights, something we are planning to do throughout our Asia Pacific operations in the future. In other words, our investments in safety should, sooner rather than later, pay for themselves and more. The use of IoT to improve safety provides opportunities for greater productivity –creating a virtuous cycle where these benefits fund further innovation.
The more we explore IoT's practical uses, the more we find safety to be an inextricable part of its implementation. Focusing on the IoT's safety implications can uplift performance in all areas of operations, generate the ROI needed for ongoing innovation—and more importantly, ensure the ongoing well-being of our most valuable human assets.