Preparing Your Multinational for E-Commerce in Asia
By Ganesh Kashyap, GM & Director of e-commerce for the Asia, Middle East & Africa region, Mondeléz International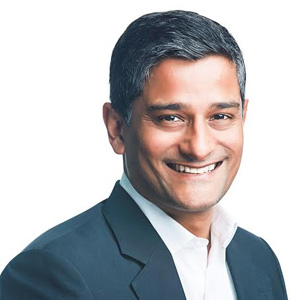 Ganesh Kashyap, GM & Director of e-commerce for the Asia, Middle East & Africa region, Mondeléz International
In a few short years, we have seen a phenomenal rise in online shopping across Asia – driven by a rising middle class, smartphone proliferation and steadily improving logistics infrastructure.
It is a time when multinationals are reinventing themselves to play in this new landscape; many have come out with plans to cash in on this revolution.
At Mondelēz International, we have recognized that our portfolio of the world's favorite snacks brands needs to win in e-commerce. We've committed to a $1 billion in e-commerce sales by 2020, and are well on the way to achieving it.
Based on my experience, I see five key lessons learned worth sharing.
Set Directional Goals
When starting out on e-commerce, most multinationals tend to start with the math. How big is the category online? How fast is it growing? What market share can we target and by when?
But this traditional math does not work well in e-commerce, where category data is scarce and growth trajectories change quickly.
A more practical approach is to ask—what percentage online penetration is likely for your category? Estimate the penetration rates for the category cluster, e.g. for food & beverage, rather than for a specific category like biscuits. Then estimate how actions taken by major brands, local brands and e-commerce players are likely to shape your trajectory.
Based on this, set directional goals, then quickly iterate and adjust as traffic, conversion and online penetration rates for your category evolve.
Commit a Dedicated Team
For multinationals, it is tempting to think of e-commerce as a sales channel and build a new team under existing country or category structures. This is a bad idea. E-commerce is a fundamentally new medium to grow your brands and re-engage your consumers.
It calls for specialist skills like digital marketing, programmatic media, analytics and content management. These skills need to be blended with more traditional ones such as category, insights and key account management.
E-commerce is a fundamentally new medium to grow brands and re- engage your consumers
Based on our experience, a dedicated e-commerce team with a local mandate and accountability for a P&L is a far better approach. It helps to create the focus, capability, and speed needed to deliver bigger results faster.
Define your Go-to-Market Model
Brands have three directional go-to-market options:
• Direct-to-Consumer (DTC):
Operating your online brand.com storefront, e.g. cadburygiftsdirect.co.uk
• eMarketplaces:
Activating your brands on a marketplace where your products will be bought as a "single item," e.g. Alibaba's Tmall
• eTailer:
Listing with an eTailer where your products will be bought as part of a "basket," e.g. JD.com
The choices you make here will matter because the DNA and skill-sets required in your e-commerce team will vary accordingly.
Factors that shape go-to-market choices are basket economics, product size, and shopper behavior. For instance, we found impulsive, low-value items like gum trade well when listed with Tailers, while higher value planned purchases like chocolate gift boxes fare better on DTC and eMarketplaces.
Differentiate the Online Offer
Online shoppers in Asia are typically younger, better educated and have higher disposable incomes. But they still expect a bargain. To illustrate this, everyday biscuits sold online in China trade at a 10-15 percent discount versus offline. Yet imported biscuits not readily available offline command a price premium. This means online shoppers are willing to pay more for differentiated products but expect to pay less for similar ones.
With consumer products, differentiation means rethinking your product and delivery experience. How can you fundamentally change the proposition, so that price is no longer a basis for comparison?
One of our most successful campaigns was a move to personalize the Oreo experience in China. We gave shoppers the chance to customize their box of Oreo Cookies on Tmall, by offering a variety of designs from popular local artists. The response was incredible. In just 48 hours, we sold over 40,000 boxes and social media for the brand was abuzz. We differentiated Oreo by offering a unique experience to a generation of millennials who value individuality.
Optimize Digital Media Spend
In most multinationals, advertising spend is allocated to maximize reach and awareness for a brand, not necessarily to drive online conversion. Based on our experience, a commitment to shift media budgets toward digital, with a clear traffic and conversion objective, is essential to winning in e-commerce.
According to a recent ATKearney study, in categories where online penetration is greater than 5 percent, at least half of your digital investment should be with on-platform sources, both website and app. This very much concurs with our experience. On-platform sources are now sophisticated and include various digital properties (like livestream video), making it possible to target impressions by shopper profile in a way that was not possible before.
Overall, multinationals and global brands have a terrific opportunity to capture a share of the booming e-commerce market in Asia. But preparing your organization well for the journey is the key to winning.