Disrupting the Supply Chain. The Blockchain Revolution!
By Indranil Sen, General Manager & Head, Sales & Operational Planning, APRIL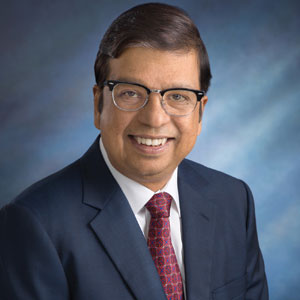 Indranil Sen, General Manager & Head, Sales & Operational Planning, APRIL
Imagine yourself, around 20 years back sitting with a few magazines trying to understand the future of Internet. If you had a copy of the Time Magazine, Popular Mechanics, The Newsweek, and The New York Times, you would end up quite confused. Two articles would talk about how the Internet would commence a social revolution impacting communication, news and entertainment, while the other two would conclude that the Internet was all hype.
With the benefit of hindsight, we now know that Internet did bring about a communication revolution and spawned business models which people couldn't have imagined 25 years back—Skype, WhatsApp, Facebook, Amazon, eBay, Netflix, Airbnb, and Uber. It allowed us to share information freely.
We are now looking at a network to transfer assets. But, you cannot share assets as you share information. Of course, when you send somebody a copy of a PowerPoint file or a PDF document, you still retain a copy. However, unlike sharing these documents, you cannot send someone twenty dollars and still have it. This results in a classic "double spend problem" that cryptographers have recognized for a while. We now manage to get around this problem by relying on trusted intermediaries—banks, government offices, social media companies etc. They maintain a centralized ledger of all transactions.
Relying on these trusted intermediaries has its own problems.
● They are centralized and can be hacked lot and this has been happening more and more frequently.
● They also cause delays in transfer. A payment to someone in New York could take days while an e-mail takes mere seconds.
● They capture our information and monetize them, effectively invading our privacy.
This is where Blockchains come in—a network to transfer assets, without trusted intermediaries.
In 2008, at the peak of the banking crisis, Satoshi Nakamoto, an anonymous person, proposed a solution, in his seminal paper titled "Bitcoin: A Peer-to-Peer Electronic Cash System" for transfer of assets electronically and created a cryptocurrency named Bitcoin. The underlying technology was called blockchain.
Like any other asset, bitcoin is an electronic asset and has its ups and downs and attracts speculators. Let's focus on Blockchains or on its more generic name "Distributed Ledger Technologies (DLT)."
So what are DLTs or blockchains? A reasonably succinct definition would be "An append-only chain of cryptographically-linked 'blocks' of data, maintained and updated by a decentralized network, with network nodes encouraged by economic incentives to engage non-strategically to maintain and secure the system so that the data—organized in a specific structure often referred to as 'global ledger'—is robust to adversarial interference, double spend, censure, counterfeit, collusion, tampering, or other types of malicious actions."
Important benefit of DLTs is "Smart Contracts"—the ability, of the system to execute contracts agreed upon by individual members who are participating
In simple words, it is a distributed ledger maintained on thousands of computers (nodes), where transactions are recorded simultaneously, after verification, in such a way that they are linked to previous transactions, using cryptography.
This gives these the transactions the ability to avoid the double spend problem and makes the transactions extremely difficult to tamper with. All records are thus immutable, transparent, auditable and largely resistant to fraud.
There are many types of DLTs—public vs. private, permissionless vs. permissioned etc. There are many consensus algorithms (methodology for verification) with the two most popular being Proof of Work and Proof of Stake. While the two popular cryptocurrencies (bitcoin and ethereum) use public, permission less blockchains, most enterprise applications are expected to run on private permissioned block chains (Hyderledger, R3 Corda etc.).
Another important benefit of DLTs is "Smart Contracts"— the ability, of the system to execute contracts agreed upon by individual members who are participating. For example, when a delivery contractor completes a delivery and puts the POD on the DLT, the smart contract will automatically execute his payment.
Use of DLT in supply chains is expected to enable new business models, alleviate friction in global trade, provide end-to-end connectivity within supply chains and improve transparency and traceability.
Some of the areas where there has been substantial progress in application of DLTs to supply chain are:
● Provenance tracking: One organization which is doing exemplary work in this space is Everledger. They are using blockchains to track the provenance of expensive diamonds— from where is it coming, what is the quality, whose hands has it moved through etc. This ensures that no blood diamonds slip into the global supply chain for diamonds.
● Global Trade: Tradelens, promoted by IBM and Maersk is trying to implement global shipping supply chain visibility and traceability. Their objective is to seamlessly and securely transfer trade documents across organizations to automate customs clearance, trade finance and more. They are currently beta testing their solution around 60 customers.
● Transportation tracking: Skycell has developed containers for the pharmaceutical and healthcare industry, where critical transportation data, such as temperature, humidity, impact etc. are monitored using IoT sensors and the data is recoded, using a blockchain, giving the consignee the assurance of that all parameters were within limits during transportation.
There are many such examples of pioneering work that is taking place in the above areas. Over the next few years, I am convinced that we see further adoption of blockchains within the supply chain.
Is everything perfect? Certainly not! Currently most DLTs have a scalability problem – transactions are limited to 15- 20 transactions per second. This is way too low compared to credit card companies which process thousands of transactions per second. Regulations on use of DLTs and Blockchains are still not mature and many governments view it with suspicion. Over time storage will certainly become an issue for enterprises as every transaction from the beginning of the DLT implementation will need to be stored. However, the most important challenge will be to get the complete ecosystems to participate on the DLT. Giants like IBM and Maersk are reportedly facing difficulties in getting other shipping carriers to join the Tradelens initiative.
So where does this all leave us? Well, somewhere in the mid 90s! DLTs/Blockchains are today where the Internet was in the mid 90s. Technology still has to improve; use cases will have to mature and new business models will have to evolve before the real impact of DLTs are felt. But can we ignore this emerging technology? Do so at your own peril!