A Plan for Successful Future
By Vivek Gaurav, Heading – Planning, Customer Service & Logistics, General Mills India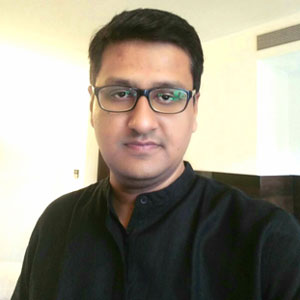 Vivek Gaurav, Heading – Planning, Customer Service & Logistics, General Mills India
1. What are the current market trends you see shaping the Logistics Space?
Supply Chain's journey from just being referred to as 'Supply Department', to being present in the Boardroom, has been remarkable. I have always taken pride in saying that Supply Chain and Logistics has not only become a key element of the business, but for some sectors, a key business differentiator. The businesses like e-commerce thrive on Reach, Speed, and Cost to Serve as their competitive advantage. A perfect blend of Logistics with Technology enables this.
After many decades of Product innovation in organizations, Innovation in Supply Chain and Logistics is the next big thing.
Talking in Indian context, I can see three major trends in Logistics space:
• Technology: Internet of Things (IoT) is the current big wave sweeping across the logistics space. Connectivity of assets across the value chain i.e. vehicles, warehouse bins, retail shelves has given immense visibility, traceability and flexibility across Supply Chain. Blockchain is next big thing, which finds a befitting place in Logistics and Supply Chain. Machine learning and AI are finding their worth in Operations and Logistics to a great extent.
• Data Analytics: Supply Chain organizations are increasingly identifying key Business Objectives and Improvement areas and are trying to address these through Data Analytics. Right from analyzing Logistics spend from every possible lens to tracking unplanned movements to providing inventory visibility on real-time basis to tracking under-loading or route-deviations, Data Analytics is beginning to make a lot of difference to Business results.
• Government's Role: In India, Government is making all the right moves to transform the logistics sector. Logistics sector has been given 'Infrastructure Sector' status already. Government clearly seems to be benchmarking India's Logistics sector with other major nations, and is charting out improvement plans accordingly. India's current ranking in World Bank's Logistics Performance Indicator is 35, and govt. is targeting 15. National Logistics Portal – a digital platform to bring all stakeholders on board to cut down transactional costs and time for business- is being set up. Around 34 mega logistics parks and multi-modal transport hubs are being planned in next few years.
As a result, logistics sector is fast becoming an attractive avenue for FDI as well as Employment generation.
2. The 'lean supply chain' seeks to consolidate activities into a core business model and leverage compounding efficiencies to invest in designing tailored products and solutions for diverse audience cohorts. It resonates with 'the hedgehog concept' of focusing on core competencies with an aggressive eye to detail while proactively culling efforts that are not mission critical. Your views on this development.
Traditionally, the most common yardstick used by companies to define a lean and efficient supply chain is 'cost'. On the contrary, I strongly believe that in order to become a partner in driving business results, organizations should look at 'value' of supply chain vs. 'cost'. For a good e-commerce company, delivering a package within the committed two days at 1.5x cost is more 'valuable' than doing it at x cost in four days.
Supply Chain has to be designed in line with Business' Hedgehog Concept. In other words, it has to be in synergy with what your Business stands for. And its role purely depends on what stage of lifecycle your Business is.
If the business is in fast growth phase, perhaps, Agility of Supply Chain and Operations takes precedence over pure cost.
Supply chain needs to enable the business to expand its distribution footprint, tap newer markets and ship smaller loads at higher frequency, be it at a higher cost. Leanness of Supply chain gets a whole new definition here.
If your Business growth is driven by launch of new products at break-neck speed, the supply chain's core competency should be to develop external manufacturing partners, while driving strong in-house Planning, Logistics, and R&D.
CIOs need to transform themselves from being Implementation Leaders to Business Leaders
For companies on steady growth trajectory, incremental improvements in bottom-line are driven by efficiencies in supply chain operations, efficient sourcing practices, greater data visibility, etc. Collaborating with technology partners becomes a key factor to avoid big investments upfront and keep the supply chain lean. A lean Supply chain has direct influence on Product Cost, Working Capital and Capital expenditure, hence, helping the Business to drive its Hedgehog concept much harder.
3. Please elaborate on the challenges that the organizations will need to address related to Logistics function.
Answer to this question deserves one full edition of a magazine. Still, in order to put it briefly in bullet-points, I can think of the following challenges:
• Talent and People Capability:
With the kind of expansion as well as transformation this sector is undergoing, both quantity and quality of talent is going to be the single biggest challenge. On one hand, logistics professional need to be equipped with hands-on experience in machine learning, data analytics and IoT, on the other hand, they need to come equipped with the capability to understand the length, breadth and depth of the Business.
• Service Providers & Partners:
The capability of business partners to keep pace with an organization's change in business models and requirement will be another challenge. An organization's need for bespoke transportation and warehousing solutions, will require it to involve it partners at a very early stage of 'thinking', which comes with its own constraints.
• Organization's growth aspirations:
Logistics can easily become a bottleneck in an organization's growth aspirations, when these aspirations are not explicitly communicated and understood well in-advance and when these are not translated into a well-defined supply chain strategy.
4. What are the major tasks for organizational CIOs at this point in time?
First and foremost, CIOs need to transform themselves from being Implementation Leaders to Business Leaders. Essentially, they need to move from process re-engineering and driving cost efficiencies to owning and driving Business results.
In order to drive Revenue and Profitability, CIOs need to create an ecosystem, which brings out right information and actionable insights across various functions, by exploiting data and visibility.
When this is done effectively, their next major task is to Envision a Technology Road-Map for the Organization. And since this technology road-map owes its origin to the Business priorities, it will have a complete buy-in and sponsorship of the CEO of the organization.
I also strongly believe that one of the major tasks a CIO has is to exponentially improve the affinity of the people towards technology. One of the biggest reasons behind the failure of a technology in a company is the inability of the users to adopt, adapt and accept it. So, a CIO has to ensure that the technology or the tool makes people's life easy, fun and smooth. And for the people to know that, he needs to hard-sell this to them.
Whenever I talk to my teams about technology, I always give them the example of all the popular social networking sites and messengers. Nobody ever needed a trainer or a CIO for them to adopt these technologies.
This is supposed to be the benchmark for a CIO when it comes to Technology implementation in organizations.
5. What is your advice for budding technologists in the Logistics space?
Though I am nowhere near being a veteran, I am very much impressed with the new-age talent in the logistics space. The budding leaders in this space are highly aspirational, have amazing learning agility, have a broad perspective and possess a fair degree of clarity at a young age.
My advice to them would be to embrace the reality of fading boundaries between Logistics, Business, and Technology. Logistics is Business and Business is Technology. And hence, they cannot take the risk of choosing one of these and going after that. They need to develop themselves into leaders who have strong hold on all three.
Another advice would be to break the shackles of 'Process'. Since times immemorial, Supply Chain professionals have been proudly associating themselves as process-driven, SOP-focused and Follow-set-rules-of-the-game kind of breed. It's high time that the folks move out of this closet and turn themselves into creative mavericks, questioning all boundaries and processes, to achieve transformational results. And since being Process-driven is in their DNA, they have the capability to be absurd while staying within the bounds of policy and compliance.
But this capability can be developed best when they are budding managers.