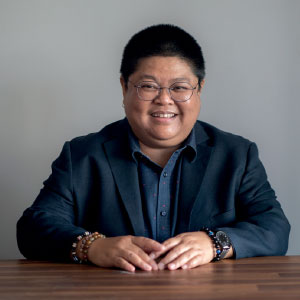 Ms. Areeyarath Boonsootornpat, Co-Founder & CEO
More often than not, when companies have trouble delivering goods within strict deadlines, their manually-operated legacy systems are to blame. An automated Artificial Intelligence (AI) logistics platform that can provide end-to-end visibility of orders and track delivery statuses in real-time can eliminate this problem while providing management teams with vital metrics and data insights. Eternal Innovations (ETi) is the go-to solution provider to overcome hurdles in logistics. The data experts at ETi use their knowledge, technical know-how, innovation, and technology to help their clients compete and grow profitably in the fast-paced digital world. SmartInno is an advanced logistics solution from ETi that is an all-in-one package to help B-to-B companies manage orders, transportation, and deliveries. The critical challenges in logistics are centered on transportation costs, improving business processes, retaining drivers, enhancing customer experience, and implementing new technologies. ETi's solution tackles these obstacles head-on and provides unique solutions to solve them. "Route optimization features will help manage routes, increase route efficiency, and ensure that the drivers take the least amount of time to complete the delivery", says Areeyarath Boonsootornpat, Co-founder & CEO of ETi. As a result of this feature, there is less expenditure on fuel—which constitutes the majority of transportation costs. Implementing SmartInno will streamline the company's business processes and, in turn, will cut short delivery times and reduce fulfillment costs. The platform offers features that aim to improve driver retention rates. SmartInno utilises machine learning (ML) technology to identify driver license plates, perform facial recognition, and keep track of performance and ratings. The data analytics from the platform help to shed light on driving behaviours and allows companies to incentivise drivers for good performance.
ETi is fuelled by the belief that "Service is the heart of the business." The development team at the logistics enterprise has put an immense effort into creating Customer Analytics and Monitoring Platform (CAM) to help firms deliver the best value to clients and create a better customer experience.
Our solutions are built with customer experience at their heart
While SmartInno supports firms by providing an end-to-end logistics visibility, CAM—used as a plug-in to SmartInno or as a standalone platform—serves to improve the customer experience. Since logistics is largely a service-oriented business, providing end-to-end visibility is not enough for a firm's endeavours to be best-in-class. CAM is a tool for firms to help close the loop with customers, and consequently, ensure success. In modern markets where customers are constantly in contact with companies digitally, a satisfaction survey conducted once a year will not suffice to create a compelling customer experience. CAM solves this issue by continuously monitoring service performance, evaluating and analysing customer data for its use in strategic decisions. A recent study by Forbes shows that providing an excellent customer experience can launch companies far ahead of their competitors. The study concluded that companies that lead in customer experience outperformed others by nearly 80 percent. 73 percent of these companies also fared financially better than their laggard counterparts. This study reinforces the motto of keeping customer satisfaction as the end-goal of ETi.
SmartInno has brought welcome changes to the logistic technology landscape. In 2005, just two years since ETi's founding, a multinational agriculture company needed an optimised logistics platform to maintain service standards and monitor business performance across all its dealers. ETi's platform solved this challenge by designing a platform that offered data insights from customer feedback to create data visualizations for automated reporting. The platform analysed propelling factors for improved service and predicted the top three service patterns that dealers could use to improve deliveries. This innovative data structure helped the company gain a better service performance owing to a metrics-driven dashboard. There was a 20 percent increase in on-time service completion and a 60 percent increase in customer satisfaction scores.
SmartInno allows business units to work together more seamlessly by turning manual business processes into automated processes using digital technology. It has not only digitized the logistics process, but has made significant improvements to business performance such as reducing overtime hours by 30 percent, increasing on-time delivery by 50 percent, and guaranteeing a 100 percent truck supply rate. In short, SmartInno's purpose is and will be in keeping customers happy and improving their business performance. Since most Thai company policies do not allow cloud technology, ETi also offers a different pricing model for its solution implemented into an on-premise server. In the coming year, ETi plans to delve more into newer aspects of AI and ML to make their platform smarter and more streamlined. They aim to focus on data analytics and help clients utilise this data to minimise transaction costs and improve overall profitability.