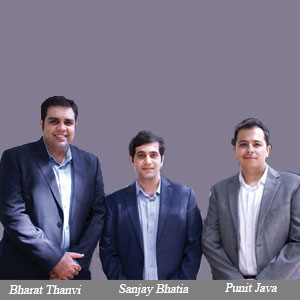 Bharat Thanvi, Co-Founder & CMO, Sanjay Bhatia, Co-Founder & CEO and Punit Java, Co-Founder & CTO
With more than a decade of experience in international logistics (i.e. freight forwarding (FF)), Sanjay Bhatia was keenly aware that lack of transparency and reliable operations are the top issues faced by importers and exporters in India. Large FFs typically de-prioritize low cargo volume clients, forcing them to work with small-time forwarders who do not have the resources or process discipline to manage international shipments effectively. These FFs lack transparency in pricing, provide no visibility in cargo movement and still use legacy manual processes which are error-prone causing cost overruns and shipment delays. Witnessing these challenges Bhatia, CEO of Freightwalla, partnered with Punit Java, a former Product Manager at Amazon and Microsoft, and Bharat Thanvi, a Freight Forwarder with 15 years' experience, to found Freightwalla. The company has developed an intelligent freight forwarding platform that transforms the experience for its customers at every step of the process, from planning shipments to tracking the movements to automating document workflows. "We help our clients save time and money their logistics processes by using technology to bring transparency, automate processes and provide actionable insights into their operations," remarks Bhatia.
With its intelligent freight forwarding platform, the firm is unparalleled in helping clients in three distinct areas—costing and planning, cargo tracking and automated documentation. Firstly, for costing and planning the platform utilizes data collected from disparate sources— freight rates, live vessel schedules, port changes, cargo availability and others—to offer a wide range of shipment options promoting faster and better decisions, as this level of instant access to relevant data was not possible before Freightwalla's platform. When it comes to cargo tracking, the platform analyzes various touch points providing a real-time view on the shipment assisting clients to track the shipments end-to-end, across land transport, freight, ports, customs, and more. In case of any potential shipment issues like changes in transshipment plans or delays of vessel arrival, the platform instantly alerts the clients. Lastly, the platform automates the generation of critical documentation such as First Prints and B/Ls and streamlines the review process online. In comparison with the manual process, this automated documentation offers much faster and more accurate documentation, easier collaboration and thwarts manual errors which in turn saves time and cost. "For our clients' shipments, we have cut down the time involved in planning by 80 percent whilst saving approximately 20 percent on the cost of a shipment," extols Bhatia.

Citing one of their success stories, Sanjay points out a client who shipped goods from Mumbai to Miami, Florida, where the cargo was to be transshipped (re-routed) at Spain. The shipping line delayed the transshipment plan once the vessel had already departed the origin port. As the firm's sophisticated platform keeps a constant track of the shipment, Freightwalla was able to identify the potential delay of the cargo. The software immediately alerted the client and Freightwalla worked with the client to proactively resolve the situation and get the shipment back on track. This allowed the client to save $1.5mn in damages that would have resulted from any potential delays.

Freightwalla is continuously exploring various opportunities to build real-time information capabilities with the inclusion of tracking solutions across a wide range of providers such as air & land transport, port systems, warehousing providers and more. The firm is also looking out for new technology enhancements with the current trending technologies like blockchain and Internet-of- Things. They are actively investing in machine learning to utilize data to identify and resolve at-risk shipments effectively. "We see Freightwalla playing a big role in setting the new normal for cargo movements in the digital age," concludes Bhatia.