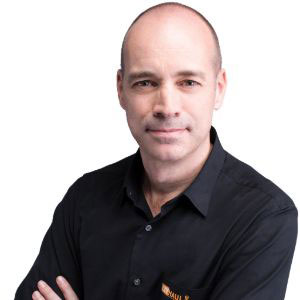 Raymond Gillon, CEO
The transport industry has always been very conservative in terms of adopting technological innovations. Even though the sector witnesses significant fragmentation resulting in a less than optimal balance between supply and demand of transportation services, it lags when it comes to adapting new technologies. This results in pricing opacity for shippers, lack of real-time visibility into transport operations, manual processes and paperwork and relatively low utilization of vehicle space.
Ezyhaul, a Singapore-based company, changes these dynamics for logistics companies with its digital freight platform. The company allows organizations to transform their transport operations from manual, expensive, and inefficient to automated, productive, and agile, optimizing their operations and administrative tasks. "We do not see ourselves disrupting the market, but we aim to transform it. We believe that our digital freight platform is delivering value to all parties involved and has an important role to play in the future of the industry," says Raymond Gillon, CEO, Ezyhaul.
Ezyhaul's cloud-based freight management platform connects shippers with carriers, addressing challenges faced by both the parties. The platform provides shippers transparency in pricing through dynamic real-time quotes via the Ezyhaul platform. Besides this, it provides shippers with end-to-end visibility into their transport processes, allowing them to follow all the shipments in real time and control what is happening with the cargo.
Ezyhaul's solution, on the other hand, serves as a transport management system for carriers and enables them to manage their fleets and drivers more efficiently. Carriers are offered direct access to new loads and jobs to make extra revenue and better utilize their trucks. Ezyhaul employs IoT, big data analytics, and machine learning capabilities to increase planning efficiency and manage vehicle utilization and route optimization to achieve improved ROI and customer experience. Ezyhaul's user-friendly platform provides real-time 360-degree visibility into business processes and can be integrated with the client's existing platforms to provide actionable insights.

Further, the platform's integrated secure payment and invoice solution supports carriers to get paid more quickly and easily. All in all, Ezyhaul's solution enables carriers to get additional loads for their vehicles, get better utilization of their assets, improve their profitability, and get new clients. "Through our ecosystem, we are also providing more value to carriers by connecting channel partners to our platform," adds Gillon. "As an example we are collaborating with a global oil company to provide carriers much better deals on fuel, typically one of the most important cost factors in transportation."

Over the years, the company has assisted a multitude of logistics businesses in digitizing their operations to improve efficiency and ROI. One of these clients is a leading multinational, which partnered with Ezyhaul to streamline the overall business processes. The Ezyhaul team boosted the client's ability to receive, verify process, pick up, and deliver orders. The firm automated the optimization of routes and loads, booking of vehicles with pre-approved carriers, audit and payment of carrier invoices, and finally invoicing to their client. Ezyhaul's platform helped the client in reducing 17 percent of transport costs and increase productivity of their transport coordinators by as much as 65 percent. Global industry leaders such as CocaCola, Exxon Mobil, DHL, DB Schenker, Reliance Industries, and Cargill are already leveraging the benefits of Ezyhaul's expertise and solutions.

Currently, Ezyhaul is building an ecosystem to connect channel partners to its platform and allow carriers to get better deals on fuel, insurance, phones, tyres, and financing. To further bolster its solution, Ezyhaul is launching a new module for container haulage within its solution to address specific problems such as container demurrage and detention, terminal charges, and container returns. The company is also developing a module for cross border transportation to allow customers to book shipments from as far as China down to Singapore.